The following is a transcription of the Armstrong-Spallumcheen Cemetery located on Highland Park Road in Armstrong, British Columbia, Canada.
Location
Latitude: 50o 27' 49.50" N.
Longitude: 119o 11' 49.71" W.
Historical Background
The Armstrong Cemetery was opened on August 25, 1913. Five acres were originally purchased for the burial ground. In 1965 an adjoining 3.5 acres were bought. The original cost per plot was set at $3.00. In 1970 the municipality of Spallumcheen began to participate in the upkeep of the cemetery and at that time the name was changed to Armstrong-Spallumcheen Cemetery.
Layout
The cemetery's approximately 8.5 acres are well maintained. The road frontage is fenced with stone posts with chain link between them. The setting is one of quiet and peace. There is a farm on either side and the back boundary borders a steep ravine. Many large trees provide a picturesque setting against the mountains of the valley.
Within the cemetery are a columbarium and a memorial wall.
For a listing of the inurnments in the columbarium click here
For a list of those on the memorial wall click here
Driving Directions
In Armstrong, from Highway 97A, turn west onto Smith Drive. Follow Smith Drive to the north (right) at the junction one block after the turn from the Highway.
Proceed north on Smith Drive, turning left as it becomes Pleasant Valley Road (signs designate this).
Go west to Okanagan Street, turn north (right) for one block to Wood Avenue, turn west (left) and proceed to Highland Park Road.
Turn north (right) onto this road. Travel for 1.9 km, keeping to your left at the Sleepy Hollow Road junction. The gate to the cemetery will be apparent on your right.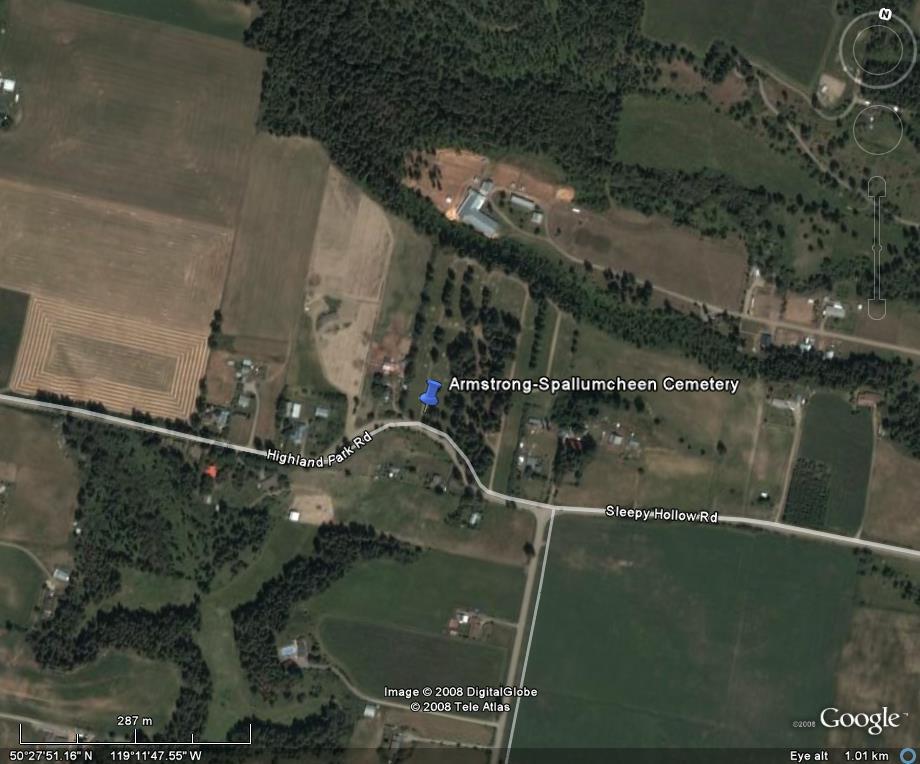 Burials
The burials for the Armstrong-Spallumcheen Cemetery can be viewed as a pdf file here » Interments.pdf
Additional sources of information:
Armstrong-Spallumcheen City Burial Records
BC Archives
Obituaries - Armstrong Advertiser
Obituaries - Vernon Morning Star
Last updated September 2011