The following is a transcription of the O'Keefe Cemetery also known as the Okanagan Cemetery or St. Ann's Cemetery located in Spallumcheen, British Columbia., Canada.
Location
Latitude: 50o 21' 50.569" N.
Longitude: 119o 16' 46.67" W.
Historical Background
In 1886 Cornelius O'Keefe, an Irish Catholic, rode through the Okanagan Valley soliciting donations for the construction of a Roman Catholic church at his ranch. Residents from all over the valley contributed, regardless of church affiliation or belief.
St. Ann's Church was completed in 1889 and dedicated at a Christmas Midnight Mass that winter. The church was constructed in "Carpenter Gothic" style and has remained unchanged since the time of its construction.
The Church never had a resident priest but was served by the Oblates from Okanagan Mission until the 1940s when the last regular Mass was said in the building.
The cemetery is located behind the church and was established as a burying ground at or before the church's construction. The cemetery has been officially closed and any further burials are limited to descendants of Cornelius O'Keefe.
The Ranch is now owned by the City of Vernon.
Layout
The cemetery is approximately one acre in size enclosed by a wooden picket fence. There is no gate. The cemetery is well maintained.
Originally the cemetery was smaller as a number of non-Catholics were buried outside of the perimeter. Now the fence encompasses all the burials.
Driving Directions
The cemetery is located behind St. Ann's Church on O'Keefe Ranch property. The O'Keefe Ranch is located at 9380 Highway 97 North. It is a well-known tourist attraction. Additional information on the ranch can be found at: www.okeeferanch.ca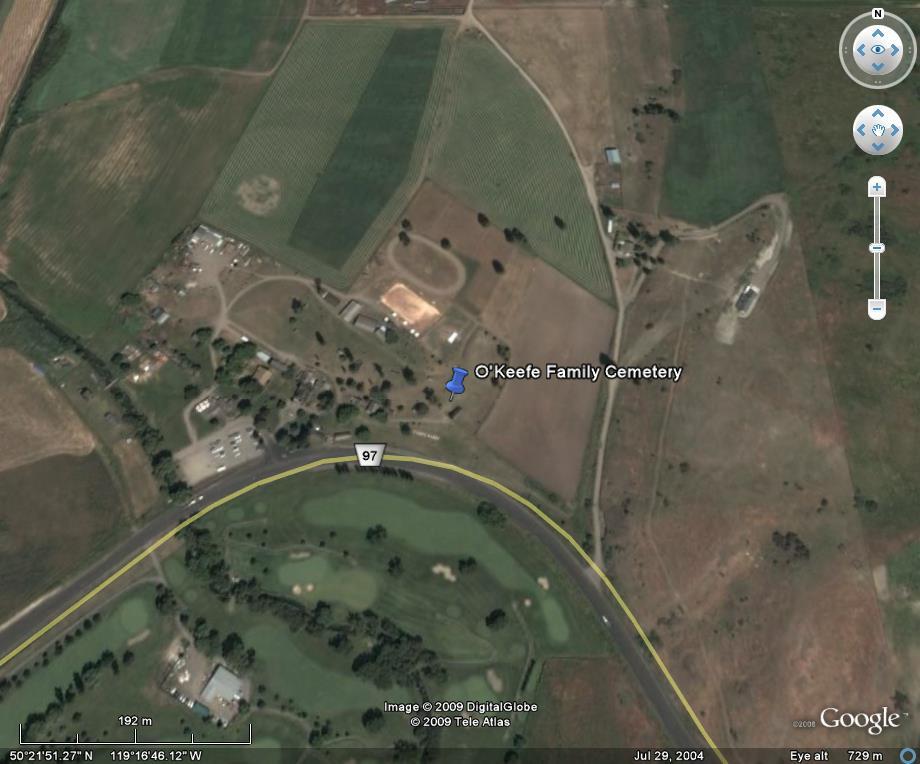 Burials:
The interments for the Okanagan/St.Ann's/O'Keefe Family Cemetery can be viewed as a pdf file here » interments.pdf
Additional sources of information:
1891 Census of Canada
1901 Census of Canada
1911 Census of Canada
1921 Census of Canada
Arsenault Family Tree by I. Arsenault
Brent, Steven
British Columbia – Division of Vital Statistics – Registration of Death
Giuliani, Eileen (O'Keefe)
Home Sweet Home, A History of The O'Keefe Ranch, 1867-1977. By Ken Mather. 1995.
Kirlkand, Carmen
Sternig, Evelyn Dunne
Vernon News
Last updated February 2014