The following is a transcription of Mara Cemetery located in Mara, British Columbia, Canada.
Location
Latitude: 50o 40' 39.45" N.
Longitude: 119o 03' 9.68" W.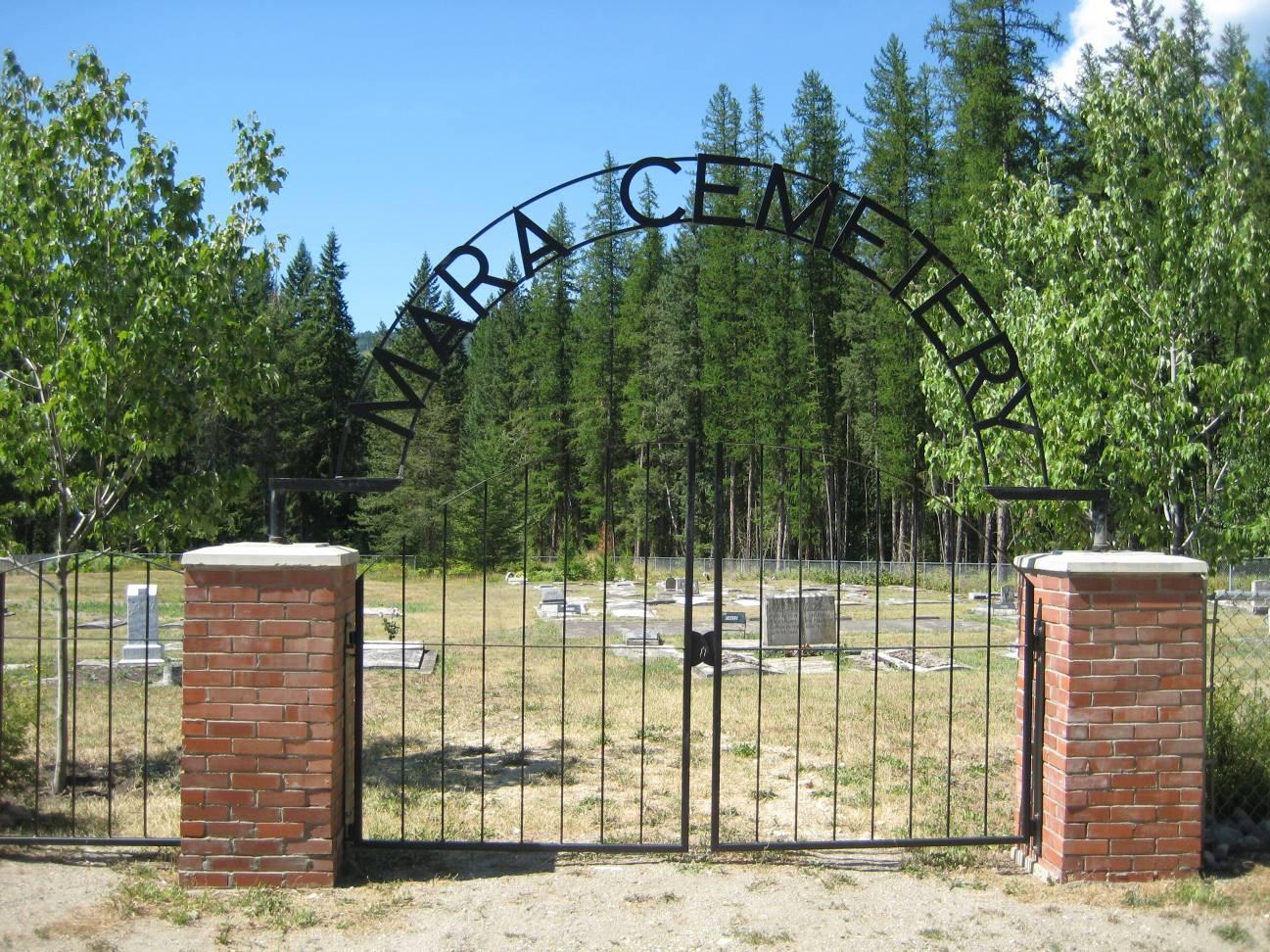 Historical Background
Mara was named for John Andrew Mara, an Overlander, born at Toronto. In 1865, John Mara had a store in Seymour which is located near the shores of Shuswap Lake. He later opened a store in Kamloops. John was a merchant, miller, steamship operator, promoter of the Kootenay Steam Navigation Company and Shuswap & Okanagan Railway. He was an MLA from 1871 - 1886 where he served as Speaker of the House from 1883 to 1886. He was an MP from 1887 to 1896. He retired to Victoria, where he died February 11, 1920 at the age of 79. The Mara Post Office was opened June 1, 1893 with S. Appleby as postmaster.
In June of 1907, a surveyor prepared plans for what is now the Mara Cemetery. This plan indicates a dividing line down the centre of the land. The section to the north is the "Mara Burial Ground" or "the Anglican side", the area to the south "Catholic Burial Plot" or "the Catholic side".
Unfortunately the original records for the cemetery were lost in the Kellett house fire in April 1951 hence the exact date of the first burial in the Mara Cemetery is unknown. Grave markers date back to 1910 bearing the names of several of Mara's pioneers.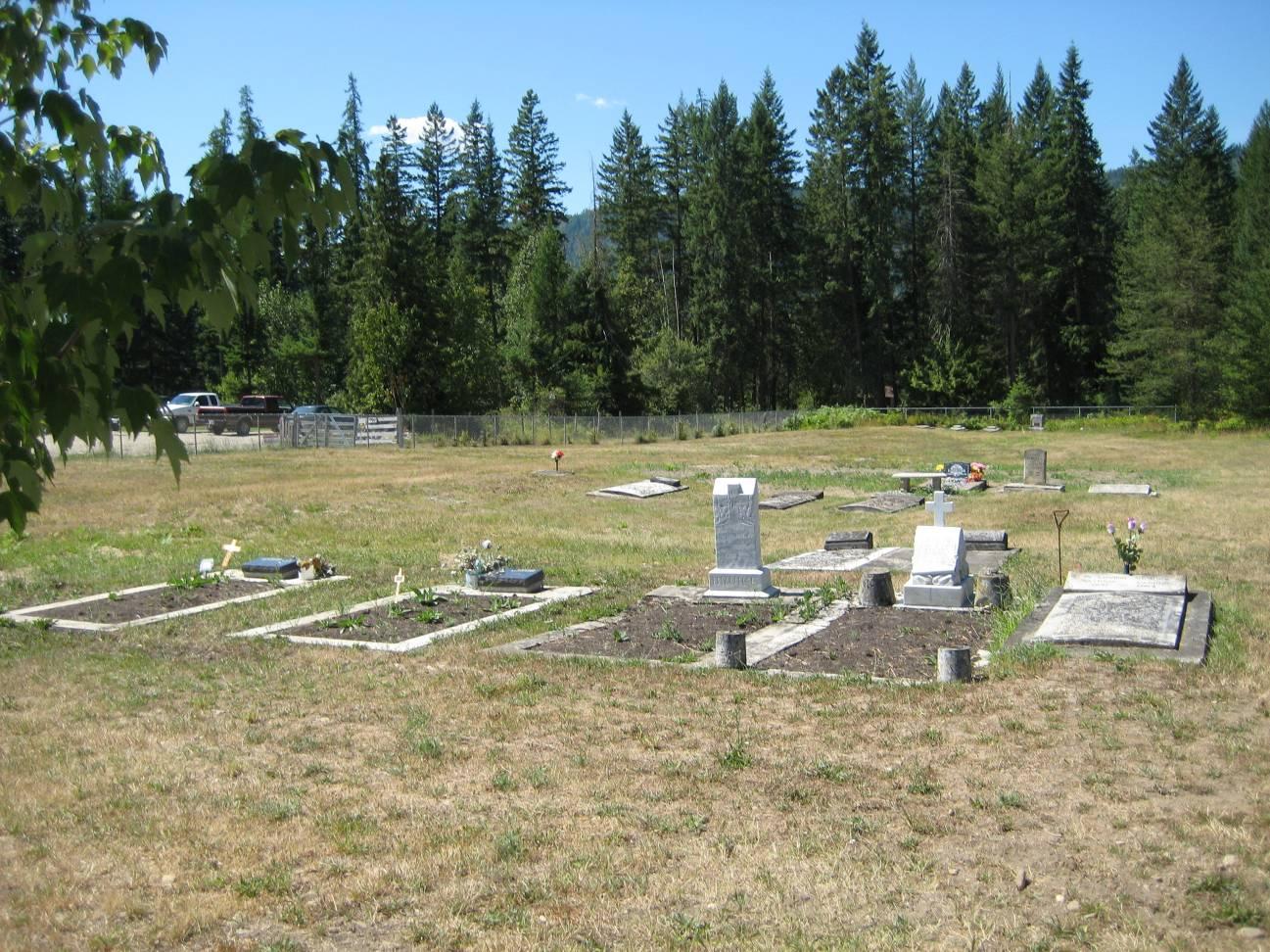 Jack Moser, born in Mara, donated a new fence around the cemetery in 1962. In 1967 he donated a bronze arch to adorn the white pillar posts of the gate at the entrance to the cemetery. This arch was shipped completely assembled from Lethbridge, Alberta.
In the mid-1970's a major renovation project was undertaken at the cemetery to upgrade the grounds and fix up abandoned graves. In the late 1990's, the area was remodeled with the removal of trees, the building of a new fence, refinishing the arch and building new gateposts. Several of the graves were cleaned and redone. The area was landscaped and scheduled maintenance of the cemetery was set up.
Layout
The Mara Cemetery is owned and administered by the Regional District and is currently in use. It is about 2 ¾ acres in size and is surrounded by a chain link fence. A black wrought iron gate and arch lead to the cemetery.
The graves are laid out in an east/west direction and are levelled. The markers are either upright raised markers or flat markers set flush to the ground. The composition of the markers is either slate, marble, concrete.
Driving Directions
The Mara Cemetery is located along the west side of Highway 97 in Mara. This road is also referred to as the Vernon-Sicamous Highway.
Interments
The interments for the Mara Cemetery can be viewed as a pdf file here » Interments.pdf
Additional sources of information:
1911 Canada Census
British Columbia Vital Events Index
Familysearch.org
Mara's Memories, Enderby, B.C.: Enderby Museum, 1996
Salmon Arm Observer, Salmon Arm, BC
12th Report of the Okanagan Historical Society, 1948, citing Gosnell, p.346; Wade, p.164
Vernon Morning Star, Vernon, BC
Last updated April 2012