The following is a transcription of the Coburn Family Cemetery located in Chase, British Columbia, Canada.
Location
Latitude: 50o 47' 21.86" N.
Longitude: 119o 42' 21.91" W.
Historical Background
Alexander McBryan settled in the area in 1869, developing the McBryan Ranch which is east of the South Thompson River and south of Shuswap Prairie. He was born in Limerick, Ireland and came to America with his widowed mother and his sisters, fleeing the famine in Ireland. The land pre-empted by Alexander, known as Shuswap, became the first settlement in the area. It had a store, hotel, jail and post office. Ultimately, the hamlet of Shuswap was eliminated due to World War I and the Depression.
Alexander married Margrite, daughter of Wishwai and Chwyle Nicola Tschwaielich Chief at Head of the Lake. There were married at the old mission in Kelowna on 07 Feb 1869. They had 11 children: Philip, Susan (George Coburn), Mary, Alex (Annie Walker), Margaret (James Baillie), Ellen, Lula, John (Lempi Clemet), Eva (Walter Weaver), Ernest (Edith Doyle) and Raymond (Alvina Stahlecker).
George Coburn, Alexander's son-in-law, purchased the McBryan Ranch from Alexander around 1900. Alexander and his wife lived in a small house on the property until Alexander's death in 1911.
The oldest marked grave in the cemetery is that of Mabel B. Coburn, daughter of George and Susan Coburn, who died in 1890. The last burial that is marked is that of Charlott A. M. McBryan, granddaughter of Alexander McBryan, who died in 1923.
Layout
The Coburn Family Cemetery is laid out in one row with eight marked graves. There is a chain link fence surrounding the cemetery. There is no gate to enter the cemetery.
Although the graves are discernible, there does not appear to be any maintenance of the grounds surrounding the burials.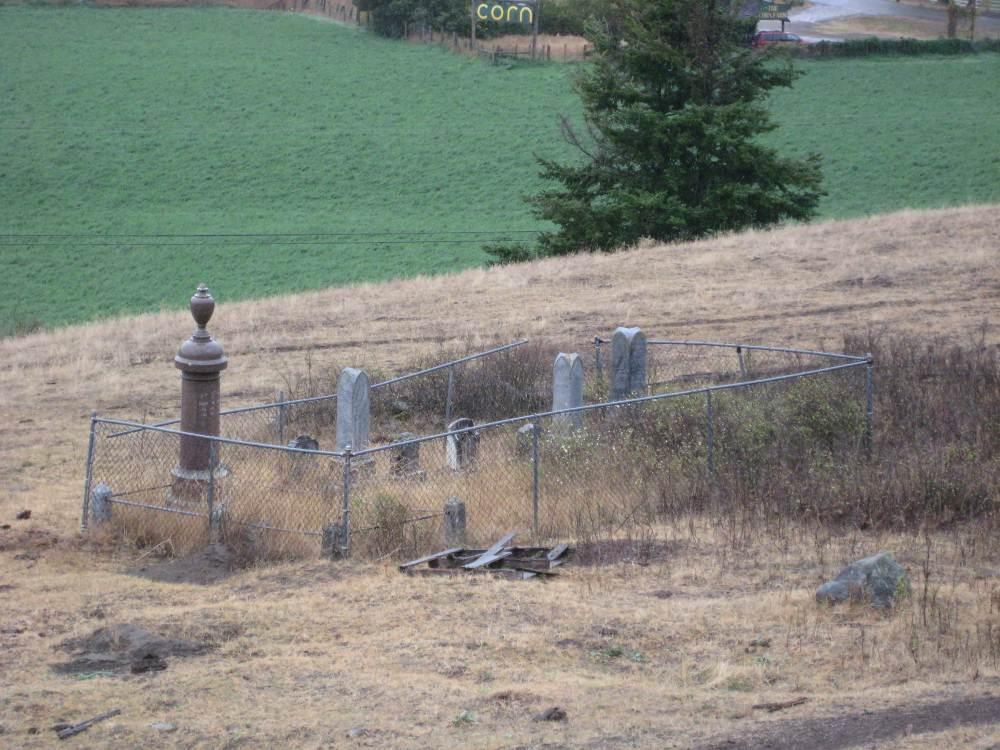 Driving Directions
The Coburn Family Cemetery is located on a hillside overlooking the valley on the south side of the Trans-Canada Highway, approximately 3.8 km west of Chase, BC.
To access the cemetery turn south on the Shuswap-Chase Creek Road (approximately 4 km west of Chase).
Travel approximately 350 metres along this road. The cemetery will be visible on the left hand side of the road.
Burials
The burials for the Coburn Family Cemetery can be viewed as a pdf file here » interments.pdf
Additional sources of information:
Dunn Joyce. A Town Called Chase, Chase, BC: Fran Kay & Associates. 1994.
Familysearch.org
Last updated March 2013