The following is a transcription of the Harrison Cemetery located in Pritchard (Duck Range), British Columbia, Canada.
Location
Latitude: 50o 38' 30.23" N.
Longitude: 119o 49' 32.93" W.
Historical Background
William Harrison gave a plot of land (SE 1/4, Sec 26, Twp 19, Range 14) in the Duck Range for church and burial purposes on August 19, 1909. The following day the spot became the final resting spot for Mrs. Catherine Hill.
The Duck Range Post Office opened on July 1, 1908 and closed April 17, 1943.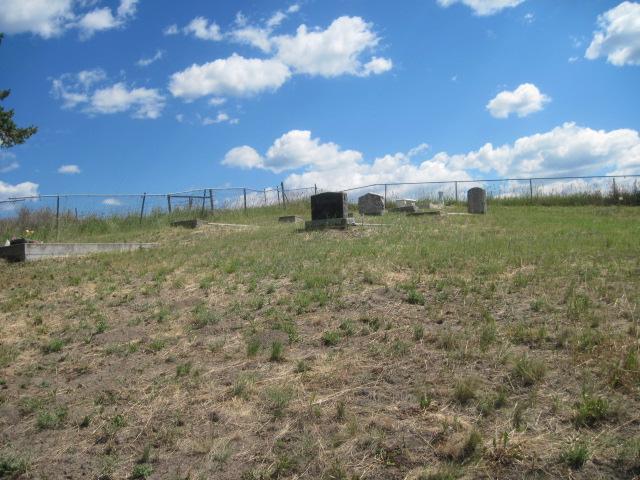 The general limits of the settlement provided in RCMP Report of September 15, 1956 show Duck Range as Twp 19, Range 14, W6M, takes encompasses the area from Pritchard to Monte Creek, and up to Duck Meadows. Jacob Duck recorded a pre-emption in this area in July 1865.
The area was named for A.W. Duck who was a rancher. By 1956, the area was inhabited by about 25 ranchers.
Layout
The Harrison Cemetery is located on a gently sloping hill overlooking a hay field and the South Thompson Valley. Around the perimeter is a chain link fence protecting the graves of pioneers and others of the district. There are approximately 24 graves in this cemetery, although seven of these are unmarked.
Driving Directions
From Hwy 97
Turn east on Duck Range Road (located approximately 13 km north-west of Monte Lake and 5 km south-east of the Monte Creek Interchange).
Travel 8.7 km on Duck Range Road, the cemetery can be seen on the right.
From Hwy 1
Turn south on Stoney Flats Road and travel for 300 metres.
Stay to the left on Martin Prairie Road for 500 metres.
Turn right on Duck Range Road and travel for 5.7 km, the cemetery will be on the left.
Burials
The interments for the Harrison Cemetery can be viewed as a pdf file here » interments.pdf
Additional sources of information:
BC Vital Events Index
Church of England. Grand Prairie with Ducks, Shuswap & Chase Parish Records.
familysearch.org
Harrison, Robert and Barbara. "Anglican Church / Harrison Cemetery at Duck Range near Pritchard, B.C. Family Footsteps, Vol. 11, No.1, April 1995
Kamloops This Week, Kamloops, BC.
Wendy Stewart Pursuit of Memories Pritchard: The Pritchard Historical Society. 1996.
Last updated July 2012