"I can say before my Eternal Father, I am innocent, and God will clear my innocency." -Rebecca Towne Nurse 1692
Rebecca Nurse is my eighth Great Grandmother, who died tragically in the 1692 witchcraft hysteria in Salem Village, Massachusetts. She was born in Great Yarmouth, Norfolk, England on February 16, 1621, to William and Joanna Towne. Rebecca was the oldest daughter of eight children.
Image - Rebecca Nurse Monument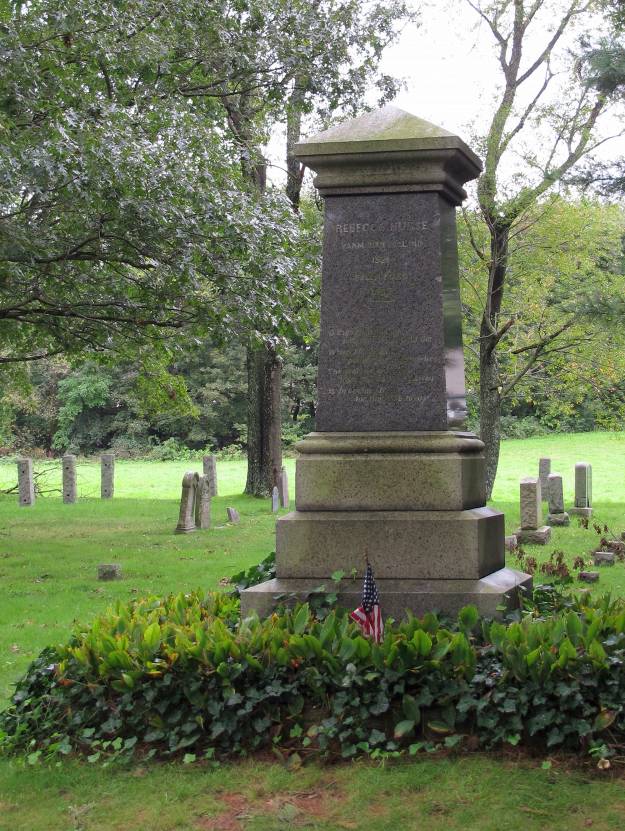 By 1636, the Towne family was living in Topsfield, Massachusetts. Rebecca married Francis Nurse, a Salem Village Tray maker. They lived at "Skerry's," near the North River in Salem Town, where they raised their eight children. Later Francis became a major landowner when he purchased, on credit, a rich 300-acre farm in Salem Village, now known as Danvers, Massachusetts.
In 1691 - 1692, after hearing stories from the Barbados slave of the Minister, Reverend Samuel Parris, several of the village girls began to display strange symptoms that could not be explained by the local physician. Unable to diagnose their ailment, it was determined that the girls were "under the spell of the evil hand of the devil." Finally, after repeated urging to name who tormented them, the girls supplied names and the witchcraft hysteria began. There are various theories about why the girls behaved as they did and accused whom they did. One theory says they were bored and were caught up in the sudden attention they were receiving and the power they were exercising. Still others contend that the accusations were the result of old jealousies and land disputes. History mentions that the Nurse family was involved in land disputes with neighbours, which may have contributed to Rebecca being accused.
At the age of 71, after being bedridden with an illness for a week, she was taken to court and tried for witchcraft on June 29, 1692. Her accusers included the young girls who initiated the witchcraft hysteria, Reverend Parris and several members of the Putnam family.
Rebecca was among Salem's most respected and religious citizens, so much so that the magistrate hesitated in delivering the warrant for her arrest. Forty of her neighbours, jeopardizing their own lives, signed petitions saying that she was innocent. She was acquitted after the first trial but arrested again a short time later after an outcry from the accusing girls.
During the second trial, hard of hearing and because of the noise made by her accusers, she did not hear a question and therefore did not answer. Her silence was taken as guilt. She was transported by cart, along with four other women, to Gallows Hill where she was hanged on July 19, 1692.
The night of her hanging, her son Samuel, at great risk and in defiance of the law, retrieved her body, which had been thrown into a shallow crevice near Gallows Hill and took her home by boat while others in the family prepared a place for decent burial on the Nurse homestead. His route from home followed the Crane River to the Danvers River to the North River, which came very close to Gallows Hill.
By the time the hysteria had run its course, 150 had been accused; fifteen women and five men were put to death, while many others died in jail awaiting trial.
In 1697, a new minister arrived in Salem, Reverend Joseph Green, aged 22. He made the young girls understand the impact of their wrong doing, and they confessed. In 1706, Anne Putnam, one of the original four hysterical girls, made a written statement of remorse.
Image - Rebecca Nurse Homestead
By 1703, the General Court made payment to the heirs of the victims and 25 pounds was paid to the heirs of Rebecca Nurse. Today the Nurse Cemetery stands surrounded by stately pine trees on the edge of the original property in Danvers Massachusetts. Many generations of family are buried there. In 1885 a monument was erected in the cemetery to the memory of Rebecca, with an inscription by the poet John G. Whittier.
"O Christian martyr, who for Truth could die
When all about thee owned the hideous lie,
The world redeemed from Superstition's sway
Is breathing freer for thy sake today."
My sister Linda, husband Keith and I visited Rebecca's homestead in Danvers Massachusetts in September of this year. It was a very moving experience to see where she lived and tour her house (circa 1678) which contains furniture and artifacts, appearing much as they did in 1692. In walking through her property, home and garden we were able to picture her figure working amongst the flowers and herbs. We also got a strong sense of her courage, strength, love and pride for family and her spirit, which remains with us today.