Infant Son Bailey was born on March 28, 1894 to James Wellington Bailey and Elizabeth Ferrar (nee Suttie) Bailey. He was their second son. Unfortunately this wee one passed away the same day and it is presumed that he was buried in the Vernon Cemetery. No first name has turned up for him and his name does not appear on the plaque at the entrance to the cemetery.
James Wellington Bailey was born July 12, 1856 in Amherstburg, Ontario and belonged to the Church of England, his future bride Elizabeth Ferrar Suttie was born Feb 14, 1854 in Arbroath, Scotland and a member of the Presbyterian Church. The couple was united in marriage in Winnipeg, Manitoba on October 13, 1891. They lived in Windsor, Ontario and Donald, British Columbia before coming to Vernon, British Columbia in 1893. The Bailey's resided in town for several years and then they moved to the Commonage on a property they named Rockville Ranch.
In Vernon James Bailey was a bricklayer and had his own brickyard on Coldstream Road as well as being a farmer. He was also a charter member of the Knights of Pythias, Coldstream Lodge # 18.
Photo #2265 Courtesy Vernon Museum and Archives Firewood sawing bee taking place on the Bailey property on the Commonage. L-R: Eileen Forbes, Mrs. Forbes, Jim Warren, Fred Holborn, Jack Bailey, Don Bailey, Ben Thorlakson and Lewis Marshell on Kalamalka Lake shore.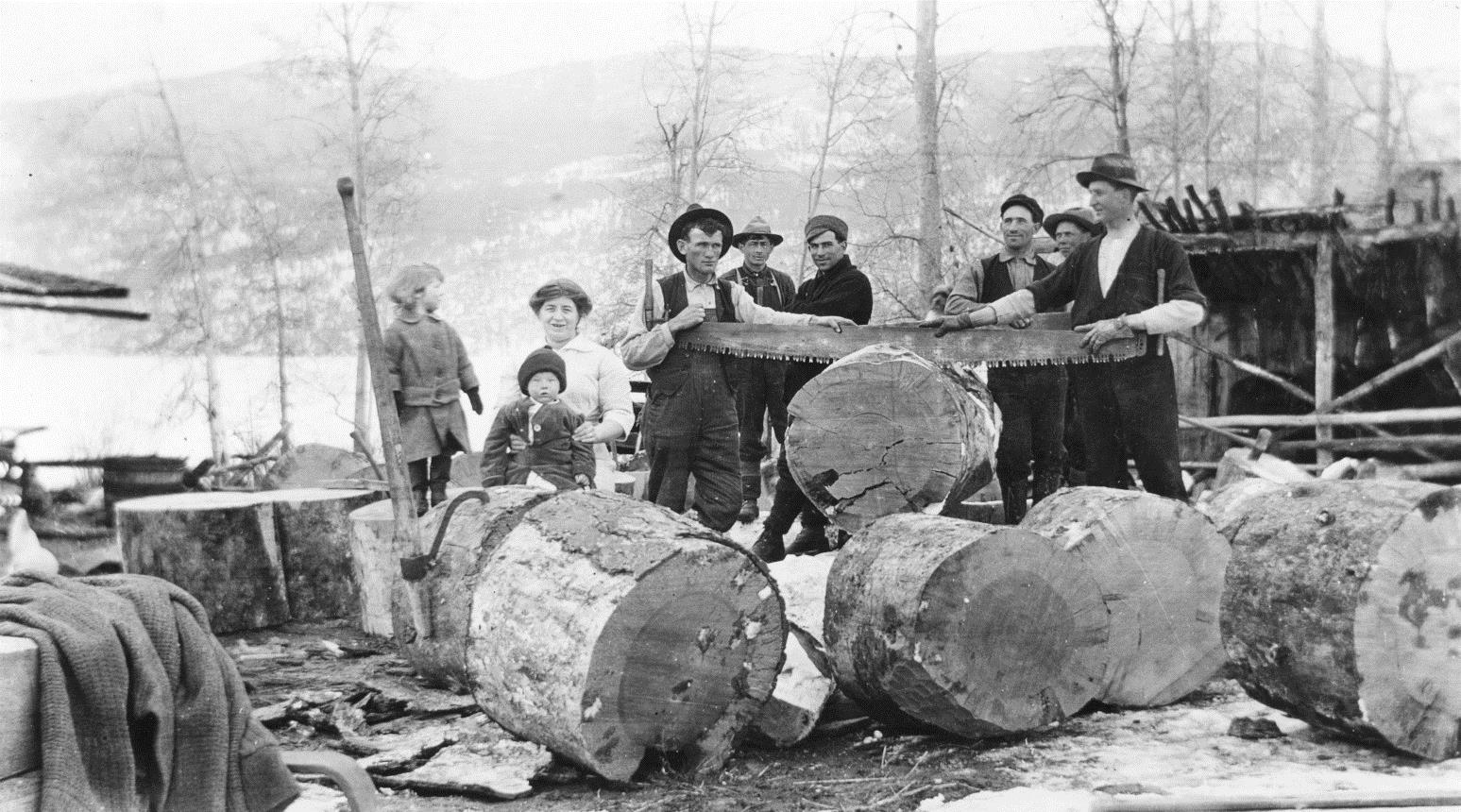 The 1901 Canadian Census has James living with his wife Elizabeth, two sons, Donald W., age eight and John S., age four as well as John Hay Suttie whom it suggests was a lodger and his occupation was listed as gentleman. John Hay was the younger brother of Elizabeth's
Photo #11068 Courtesy Vernon Museum and Archives The Bailey farm on the Commonage, barn, house and pond.
James passed away on October 19, 1921 in Vernon, and was buried in Pleasant Valley Cemetery on October 22.
Elizabeth Bailey was well known for her musical talent. . She had received extensive vocal training and was an accomplished pianist. In 1924 in recognition of her long service as the organist in the Union Church (present day United Church), a surprise party was held in her home on the Commonage where about 50 friends and neighbors honored her for her splendid efforts.
In January of 1930 Elizabeth and her son John went on a vacation to Hawaii, long before it became a state in the union. She was 75 years old at the time of their departure. Donald Winfred Bailey was born on September 29, 1892 in Amherstburg, Ontario. Donald followed in his father's footsteps and became a farmer. On December 28, 1917 he married Caroline Lawton Shortt at the residence of her parents on the Commonage. Donald and Caroline made a trip to Ontario to visit family and friends where sadly Donald passed away on March 4, 1920 in Malden, Essex County, Ontario and was interred in Amherstburg. The cause of Donald's death was pneumonia following influenza.
Photo #5018 Courtesy of Vernon Museum and Archives Jack Bailey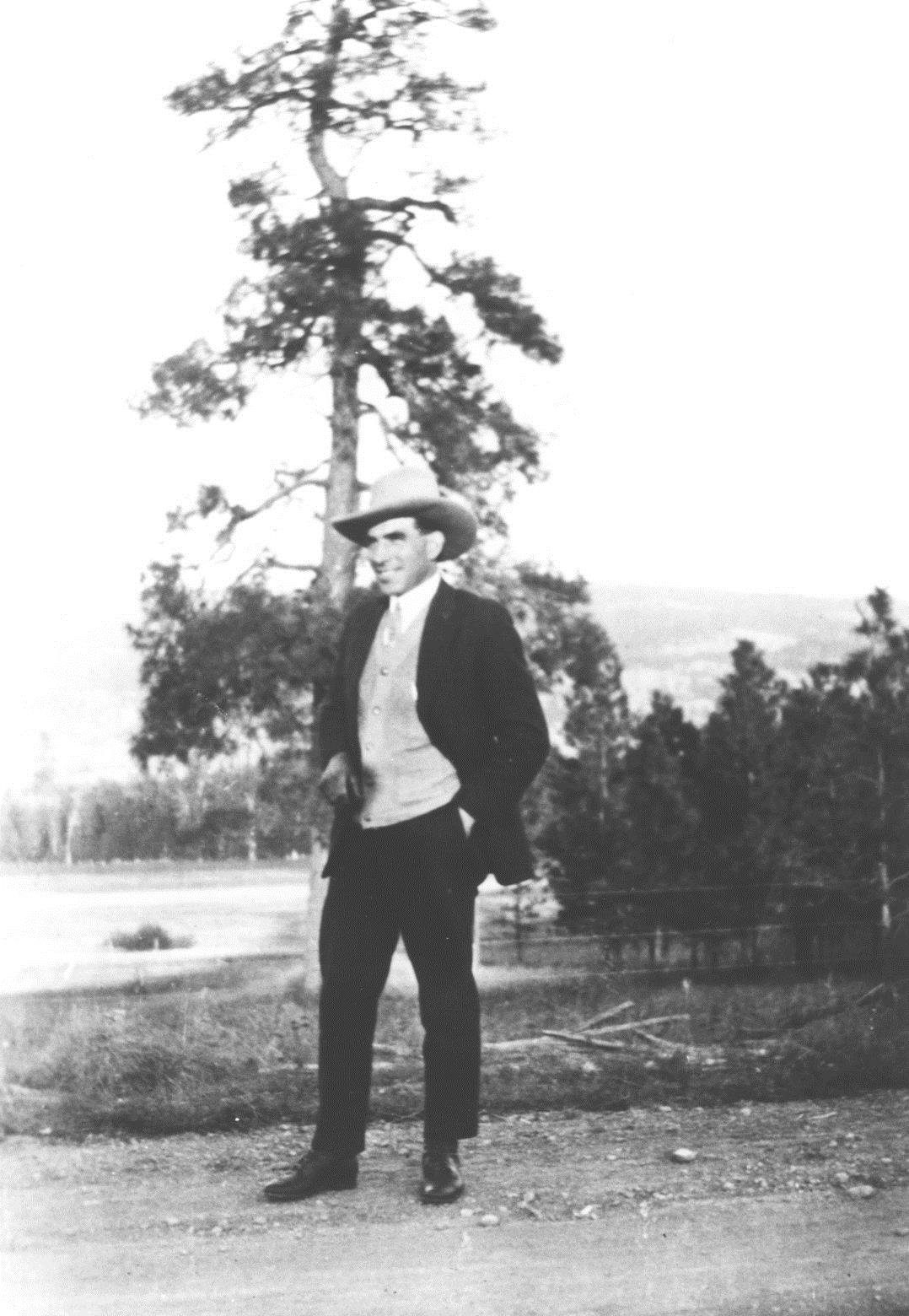 John (Jack) Suttie Bailey was born on May 20, 1896 in Vernon, British Columbia. He became a rancher. John served overseas with the Canadian Expeditionary Force during The Great War. John married Marjorie Elizabeth Chase although a marriage registration could not be located. John passed away on March 7, 1962 in Vernon Jubilee Hospital. He was buried on March 10 in Pleasant Valley Cemetery. His marriage information appeared on his death registration.
Elizabeth passed away in Vernon Jubilee Hospital on August 1, 1934. Her funeral was held in the United Church and she was laid to rest on August 3 in Pleasant Valley Cemetery.